The Advantages of Sprinting
While many people believe that the amount of time spent determines the quality of an exercise program, studies have shown that short, fast bursts of running are more effective than hour-long jogs. Sprint training is an excellent way to build muscle, burn fat and calories, and raise your metabolic rate, and it was the favored training method of sports legends such as Jerry Rice and Walter Payton. One of the best things about it is that you can do this training in only a few minutes a day, a couple of times a week, which will save you time over traditional forms of exercise.
Running on a track is the most popular place for sprint training because the distances are demarcated by lines on the ground, making it easy to keep track of exactly how far you're running. The surface is also good for shock absorption, which is helpful for keeping your joints healthy and free of injury. If you don't live near a school, gym, or other place with a track, you can still run sprints on any number of flat areas. Consider running on soccer field, football field, or other long stretch of grass or turf that is relatively flat.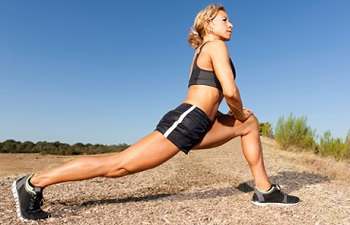 Doing a limited number of dynamic stretches before sprinting has been shown to improve sprint times and help the body avoid injury. Dynamic stretches are stretches performed while walking. Too much of this type of intense stretching will cause fatigue and decrease your sprinting performance, so aim to spend about 10 minutes if you're in average shape, and up to 20 minutes if you're super fit.
Dynamic stretching requires more effort and is therefore more tiresome than the gentle stretches most people are familiar with.
As you sprint, your heart rate increases to compensate for the increased need for blood flow to your sprinting muscles. Sprinting brings your heart rate to near its maximum speed. Over time, sprint training can increase your maximum heart rate, allowing you to work out more efficiently. Sprinting also increases your cardiovascular fitness, which helps you take in more oxygen while exercising and increasing fitness.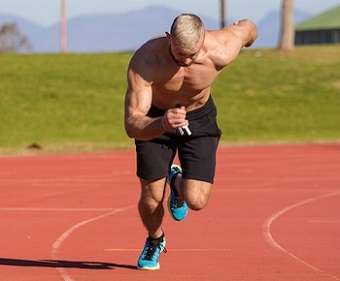 Sprinting burns a great deal of calories in a short time. Professor James Timmons from the Heriot-Watt University in Edinburgh reports that sprinting "can boost the body's metabolism sharply, helping to prevent weight gain and diabetes." Sprinting not only burns calories during its duration, but greatly improves overall metabolism, allowing you to burn more calories even when not sprinting.
Because sprinting is an anaerobic exercise, it works to build muscle in the same way that weight training does. When weight training, your body is required to produce short bursts of energy that increase muscle strength. Sprinting works in the same way. However, unlike most weightlifting exercises, sprinting uses dozens of muscles at the same time, making it one of the most complete muscle training exercises available.
With the added benefit of building muscle along with speed, sprinting helps you build and define the glutes, hamstrings, and quads, while at the same time burning off the fat layers that hide the muscles underneath.